With all its rides, attractions, and activities, Sentosa has become synonymous to fun and adventure (we're talking about the State of Fun here). Don't waste your time in impossible queues for things everyone else has done. Explore the rest of the island attractions and make your Sentosa stories stand out!
For the Thrill-Seekers
Experience zero gravity at iFly Singapore
Live out that superhero dream with iFly Singapore, where you get lifted over 50 feet off the ground! As the world's largest themed vertical wind tunnel, you and your friends and family can finally pose like the Justice League!
Experience zero gravity when you book your ticket with us!
Zip through the sky
Get the best view of the island when you zip through the sky at the MegaZip! As you're suspended over 70 meters above ground, go from the jungle canopy of Imbiah Hill  to the white sands of Siloso Beach at a heart pounding speed of 60kph!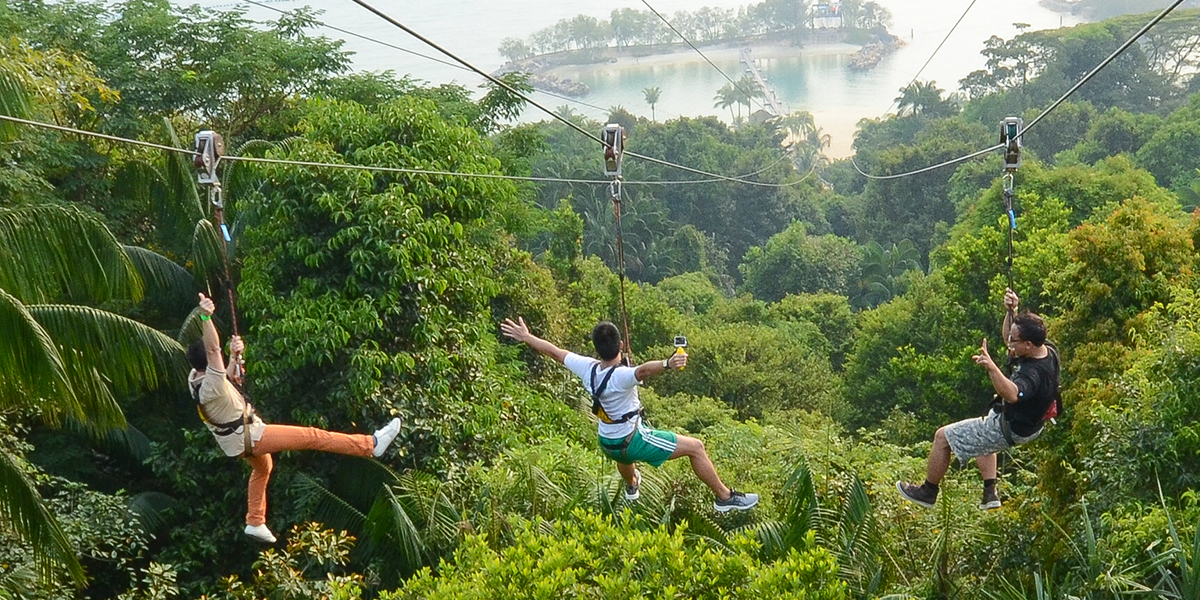 Think you're up for more? Then try out the Parajump where you get to experience the thrill of a parachute landing! Is it a bird or a plane? Book with us today!
Pretend you're in a video game
Be the unexpected hero of an adventure or the spy on a secret covert mission when you visit Sentosa's 4D Adventure! Enjoy thrilling simulations of roller coasters, battle scenes, and dinosaur chases and if you book today, you get a special KKday discount of 20%!
Experience a virtual reality like no other when you book with KKday!
For the eternal student
Tour Fort Siloso
Most people go to Siloso Beach to soak up some sun, but try something else and visit Fort Siloso, which houses Singapore's largest collection of World War II memorabilia. As you follow the tour, you'll see guns, cannons, film clips and photographs from the 1940s.
Fort Siloso usually charge around S$10-12 for adults. But if you go on Fridays, the weekend, and public holidays from 12:30pm to 3:30pm, you can join the free guided tour at Beach station!
Attend military boot camp at Combat Skirmish Live
Do you think you have what it takes to win a war? Experience a hyper-realistic role-play of the final battle between Japan and the colonial powers at Fort Siloso.
Begin operations in a mock planning room where you'll pick up your military uniform and laser gaming gun, and head off. Your goal is to infiltrate enemy territory and rescue a missing scientist. Play the villains or the hero in the underground tunnels of the historic battle. Perfect for large groups, this is a great way to strengthen (or test) your friendship!
It's a Bug's Life at the Butterfly and Insect Kingdom
Take a break from the dull gray of the city life and explore the colourful world of the tropics at the Butterfly and Insect Kingdom!
With blooming flowers and waterfalls, over 3,000 rare species of insects and 1,500 live butterflies have made their home here. Don't pass up the chance to catch the Firefly Enclosure Show.
If you're bringing the kids
Awaken your inner child at KidZania
What if children ran the world? Explore all sorts of possibilities with your kid at KidZania Singapore!
Make 'grown up' lessons fun at the massive interactive theme park where kids learn about different career paths, the inner-workings of a city, and how to handle money. The realistic role-play is both exciting and educational!
Awaken your inner child and book your adventure here today!
Pose with your favorite celebrities at Madame Tussauds
What would it be like to hang out with your celebrity idols? Maybe you can't enjoy brunch or grab drinks, but you can definitely pose with them! Madame Tussaud's Wax Museum has hyperrealistic figures of all sorts of people—world leaders, sports starts, movie stars, and pop icons.
Relive your favorite movie moments, or practice your opening lines for when you meet your celebrity hero in real life! Kids and adults won't get enough out of this unique photo opportunity! 
Have a picnic by the beach
Sentosa is brimming with all sorts of exciting activities, but your day off is also an opportunity to sit back and relax with your loved ones.
Take a break from the grind of city life and escape to the sand and oceans. Pack a beach blanket, a big umbrella, and a basket full of goodies for you and the gang and just enjoy the warm sun on Siloso Beach. Don't let the fun end at Sentosa's rides by bringing a couple of board games for everyone to enjoy.
Catch the Crane Dance
It's a simple story: the Blue Crane and the Pink Crane fall in love. But Sentosa's Crane Dance is a spectacular light and sound extravaganza that manages to make 30-meter high animatronic cranes look graceful and romantic.
While the show only lasts for 10 minutes, you'll be holding your breath the entire time. The cranes move through jets of water amidst a kaleidoscope of colour with dramatic music playing in the background. We guarantee it's a great way to cap off your Sentosa trip.
If it's your first time at the magical island, don't miss out on the classic attractions like Universal Studios, the SEA Aquarium, and Sentosa Tiger Sky Tower. Whether you're doing all that hipster stuff or hitting up the usuals, you'll never run out of things to do at Sentosa!
Looking for other off beat attractions to do this holiday? Check out our other activities:
>> These Five Thrill Rides are the Scariest on the Planet!
>> Here's how to Maximize Your Time at Disneyland
>> 6 Thrilling Activities in Bangkok for Adrenaline Junkies