Brisbane and Gold Coast are Queensland's shining stars and they live up to their reputation of sunshine and fun with the plethora of activities they have on offer. No matter what sort of date you'd like to plan, you'll be sure to find many romantic things to do in Brisbane and Gold Coast.
Wait till you've checked out our list of exciting pursuits categorised by location for your easy reference.
Brisbane
Hot Air Balloon Experience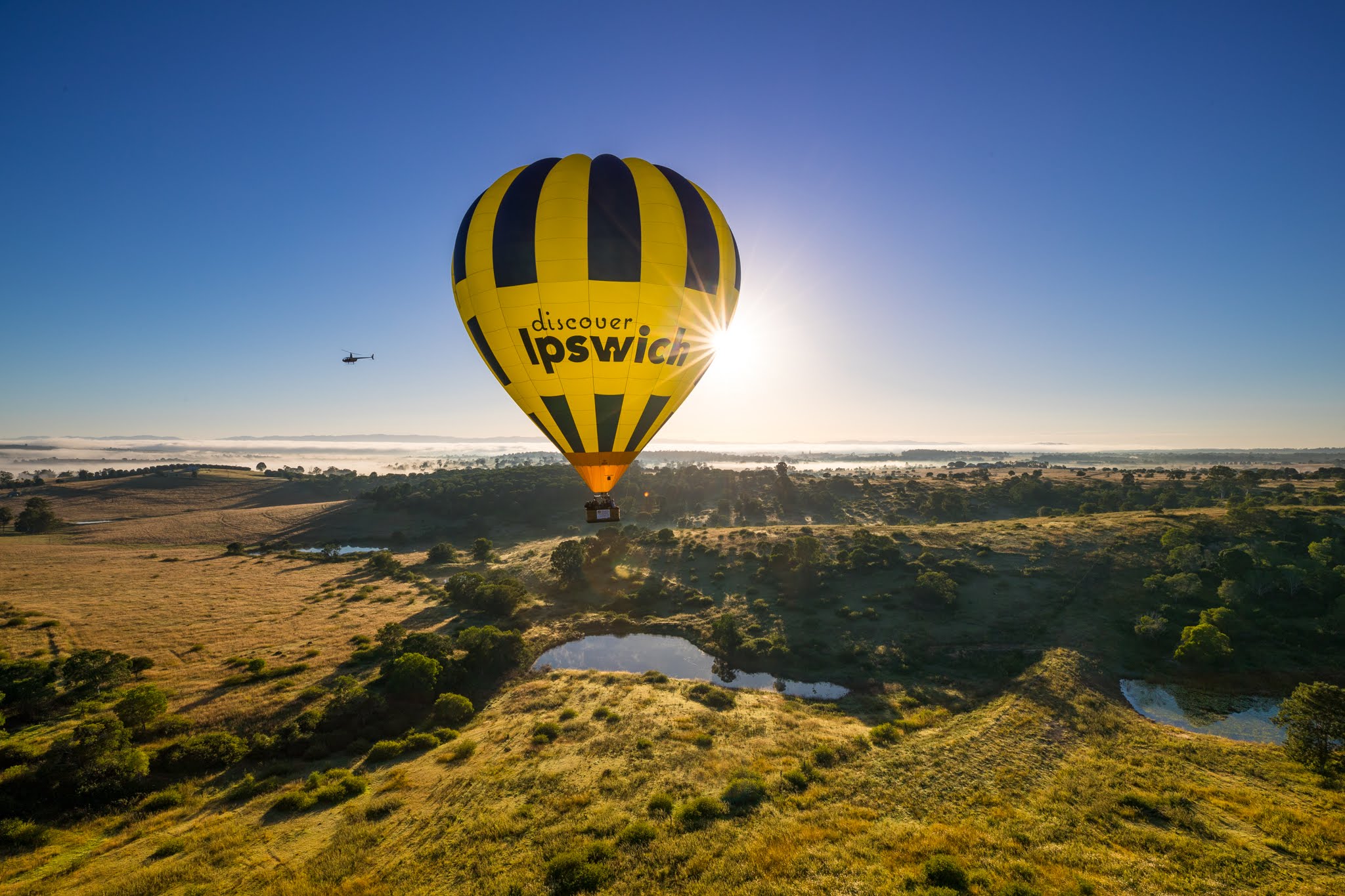 Watching the sunrise with your special someone has always been romantic. Imagine setting off with your partner just as the sun is peeking over the horizon and watching the orb brighten up the morning sky from your floating basket high above the ground. Moreover, finish off the flight with a hearty, romantic champagne breakfast.
Want to get your hands dirty? You can also choose to assist with the inflation and deflation of the balloon to really get everything out of this experience. If you need to plan a special occasion, private balloon tours for 2 can be organised. Thus, planning a hot air balloon date can be one of the easiest romantic things to do in Brisbane.
Fees: You can choose to float over Ipswich and Brisbane or Gold Coast for AUD $390 per person.
Story Bridge Adventure Climb
This date is for the more adventurous of us. Starting at the base camp directly under the Story Bridge, make your way along the suspended walkway to the base of the Southern pylon. Next, get ready to start climbing up, all the way to the summit where you will enjoy one of the best views of the city skyline. Book a twilight climb to be immersed in the sunset beauty while on the climb.
Venture along in a different direction, over the Brisbane river and explore the bridge further. Finally, get your photograph taken on the top platform before beginning your descent down the bridge. As romantic things to do in Brisbane goes, the Story Bridge climb is both romantic and thrilling.
Fees: Climb the Story bridge at twilight for AUD $159 per person.
Wheel of Brisbane
The Wheel of Brisbane is an iconic 60 meter tall wheel situated ride at the water's edge. Ride one of the forty-two gondolas up to the top for a panoramic view of Brisbane city. Since no reservations are required, turn up after a romantic stroll round South Bank's parklands for a relaxing ride at dusk. Watch as the glowing orb makes its way back down to the horizon and bring on twilight.
Alternatively, ride the wheel during the bright sunlight off the day and take in the sights as far as the eye can see. You can also hop on the wheel at night and the dazzled by the bright, scintillating lights of the city and beyond. For relaxing romantic things to do in Brisbane, the Wheel of Brisbane will top the list.
Fees: Enjoy a few cycles on the wheel for AUD $19.95 per person.
Brisbane Ghost Tour
Going on a ghost tour might not seem like a romantic activity at first glance but it's a sure fire way to get your blood pumping. Talk about hauntings and ghosts might just get you a hand to hold or an arm to squeeze.
Established in 1998, Ghost Tours Australia is led by horror historian Jack Sim. He will regale you with historical facts, urban legends and myths of the paranormal as he takes you through cemeteries and the city. So strap on your walking shoes, change the batteries in your torches, and bring your camera.
If you're after some scary romantic things to do in Brisbane, look no further than Ghost Tours Australia.
Fees: Take a two hour tour in Toowong Cemetery for AUD $45 per person.
Gin School
If you are a fan of gin, look no further than Brisbane Distillery's Gin School. Learn how to distill your own spirit while snacking an imbibing in your favourite drinks. Furthermore, you can choose from 180 botanicals too add to your recipe, making your very own signature bottle of gin.
A couple that learns together, grows together. Take your spirit knowledge to the next level and impress your friends post-class. If you're still sober, make a reservation at the bar and continue your cocktail adventure as the distillery offers over twenty five different cocktails. In saying that, bring along a picnic to enjoy with your drinks and make a meal of it.
The Brisbane Distillery Company certainly delivers when it comes to intoxicating romantic things to do in Brisbane.
Fees: Learn to make gin for AUD $189 per person. Make a reservation at the bar here.
Gold Coast
Moreton Island Day Tour with Dolphin Feeding Experience
Spend the day at Moreton Island where the sand is white and plentiful, the dolphins are wild, yet friendly, and the wrecks are primed for snorkelling. If you are after fun-filled romantic things to do in Brisbane, look no further than Moreton Island.
There are a whole plethora of activities to keep you busy and delighted on your trip to the island. You can try tobogganing in the sand dunes, feeding the inquisitive dolphins isn the bay, or snorkelling at the Tangalooma wrecks. Swim in the Blue Lagoon before taking a Safari round the island. The excitement doesn't end.
Fees: Feed the dolphins and more from AUD $199 per person. Prices include cruise from Brisbane and lunch.
Skydiving Experience in Byron bay
If you are after romantic things to do in Brisbane for the brave, look no further than skydiving over Byron Bay. Join the thousands of brave souls before you and take the leap from 15,000 feet in the air. Talk about sightseeing with a difference.
Strengthen your relationship by experiencing this heart-racing, teeth-chattering activity together. After your dive, head into the nearby Byron Bay for some sights and shopping. You might even run into a celeb or two! So gear up and strap onto your designated experience diver, because its time to dive right in!
Fee: Book your skydive from AUD $309 (midweek).
Gold Coast Kayaking and Snorkelling Tour
Take advantage of the clear waters of the Gold Coast and make a date out in the sun. A kayaking and snorkelling tour should really top the list of active romantic things to do in Brisbane. You can choose to paddle your own kayak or up the romance factor and rent a tandem vehicle.
Starting from the iconic Broadwater, you will paddle to Wave Break Island, taking in the spectacular city scape as you do so. Enjoy a snack post kayaking then take a dip into the crystal waters at the island to watch the many different species of fishes swim by.
Enjoy the sun, sand, and the sea of the Gold Coast then retreat to the bustling Broadbeach for some dinner.
Fees: Start Kayaking for AUD $69 per person.
Sea World Dinner Cruise
Earn major romance points by booking a dinner cruise around the Gold Coast for date night. Take a relaxed cruise along the Gold Coast waterways, dine on premium produce and cuisine while enjoying live music, and marvel at the stars on the top deck.
Compared to the other activities, a dinner cruise might sound simple but combine dinner and the night under the stars and you've got romance gold. book now and take your partner on one of the most romantic things to do in Brisbane.
Fees: Have dinner on the water for AUD $119 per person.
Palazzo Versace Le Jardin Afternoon Tea
Sometimes you just have to do something over the top and there is nothing more extravagant than having afternoon tea at the exclusive Palazzo Versace. Step into a world of fashion luxury and opulence. Everything in the Palazzo Versace Hotel is inspired by the glamorous fashion brand so you can expect to be stunned and awed.
Expect nothing less from the afternoon tea and have your tastebuds tickles with extraordinary flavour concoctions served with a side of champagne. Dine right by the hotel's lagoon pool and take in the beautiful sparkle of the afternoon sun reflected off the water. Treat her to an afternoon of tea, crumpets and lavishness.
Fees: Indulge in a Versace inspired tea for AUD $68 per person.
It's easy to add romance to your trip. Let KKDay help you find just the right way to do so!