Melbourne has long been known for its food and cultural scene. It is a city filled with outlets for fun and merry making. As a result, there are a plethora of romantic things to do in Melbourne. We've considered many activities and have narrowed them down to a modest list. So if you need to plan something special, take a peek below.
Mornington Peninsula HOt Springs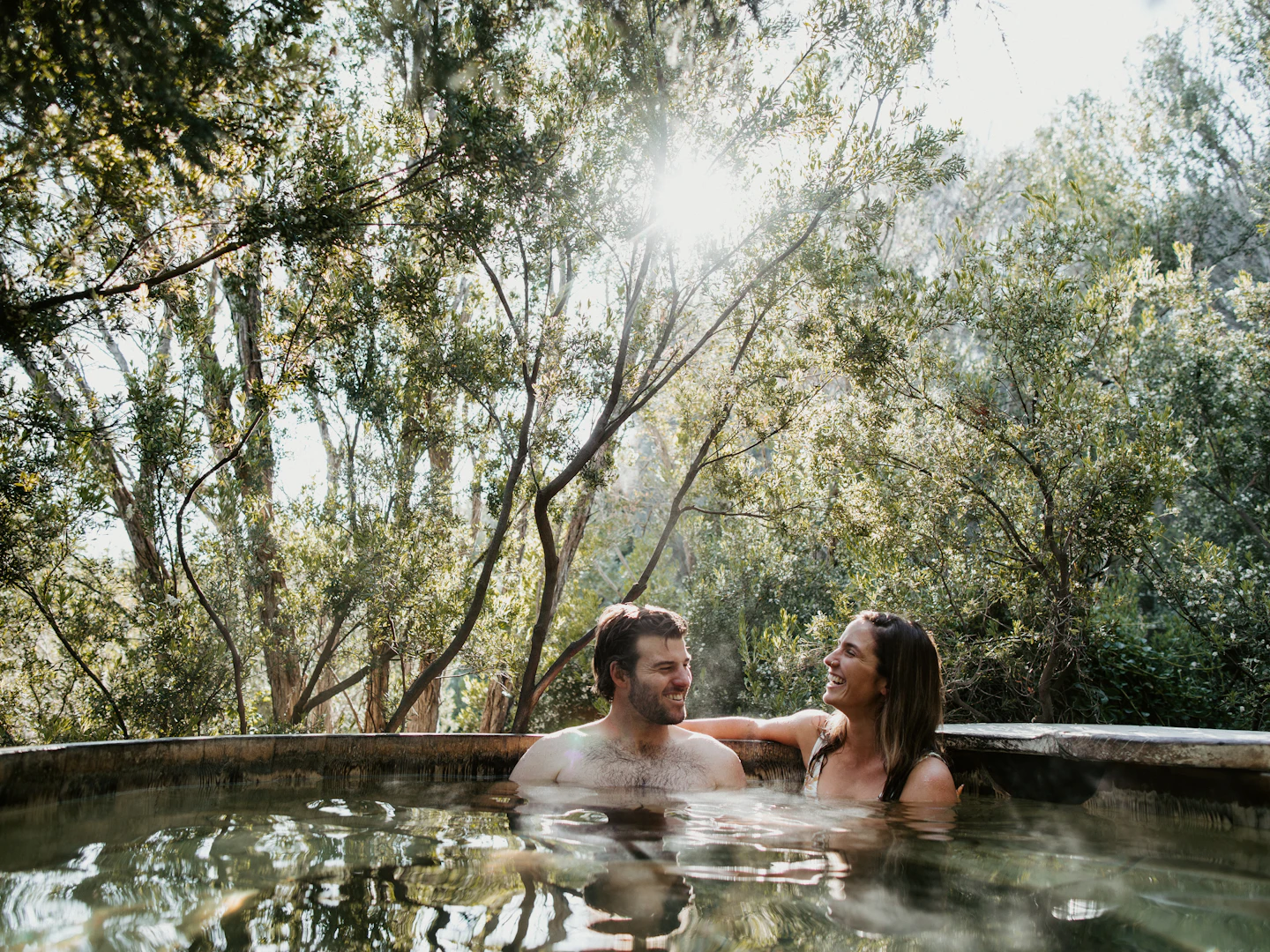 A couple that spas together, stays together (don't quote me on that, I just made it up!). However, truth be told, it does something for the relationship to be able to relax and get revitalised together. As a matter of fact, Peninsula Hot Springs has over seventy experiences to enhance your health and wellness.
Located a mere 90 minutes from Melbourne, the hot springs seems like a whole world away. You can choose to unwind in one of the many pools of geothermal water. Alternatively, indulge in a massage or clay treatment. Similarly, book to stay in one of the glamping pavilions and enjoy an entire day of scheduled treatments and activities to renew both body and soul.
Whichever indulgence you decide to immerse the both of you in, you can be certain this will be one of the most rejuvenating romantic things to do in Melbourne.
Fees: There are just so many experiences available at the Peninsula Hot Springs. A Bath House admission begins at AUD $65 per person and can be adjusted to include other activities. An overnight glamping package begins from AUD $650 a night.
Grampians Eco Wilderness Escape Day Tour
Strap on your walking shoes and make a date with your nature-loving partner. The Grampians National Park is known for its spectacular mountain ranges and houses many of Australia's wildlife.
Get picked up from your accommodation in Melbourne and start the day with a tour of the Gampians National Park, three hours from Melbourne city. From there, you'll head straight into Halls Gap where you'll be on the lookout for Australia's wild flora and fauna.
Next learn about Australia's indigenous culture from the Brambuk Aboriginal Cultural Centre followed by a guided bushwalk to see Mackenzie Falls. Get up close and admire this staggering waterfall in all its beauty. Finally, stop for a well-earned dinner on the way back to Melbourne.
Let the natural wonder of the Grampians bring the romance in for you on this rejuvenating day out. It's not hard to figure why you should make this part of your list of romantic things to do in Melbourne.
Fees: Escape into the wilderness for AUD $140 per person.
Lake Mountain Snow and Waterfalls Tour
Winter in Australia is from June through to the end of August and this means snow in our mountains. So take this opportunity to head to Lake Mountain Alpine Resort, the closest snow resort to Melbourne, for a day trip. Snowy scenery has always evoke romantic feelings so it is no surprise a day at the snow can make for one of the more romantic things to do in Melbourne.
Get picked up from Melbourne and taken through the Yarra Valley with its endless vineyards. Stop for some lunch before continuing onto Lake Mountain Alpine Resort. Spend a good three hours building snowmen, tobogganing, or even learn how to ski! As you head away from the snow, you'll stop by the majestic Steavenson Falls where you can reflect on your day as the rush of falling water fills your ears.
As one last treat on the way back, stop by the Yarra Valley Chocolaterie and Ice Creamery for something sweet. Just as how dessert finishes up a good meal, this indulgence puts the cherry on top of a highly enjoyable day.
Fees: Take a trip to the snow and falls for AUD $145 per person.
Yarra Valley Wine Experience
Calling all wine-lovers, here is an experience you do not want to miss. You and your special someone can spend the day tasting the best wines the region has to offer. Take a trip down to the spectacular Yarra Valley, where some of Australia's more iconic wines are grown and made.
Visit some premium wineries and cellar doors such as Soumah, Balgownie Estate, Greenstone Vineyard and more. Attend tastings as your knowledgable guide educates you on your tipple. Break for lunch at the Balgownie Estate and enjoy some grub prepared by their award-winning Chef Beth Candy.
End the day with yet more wine and (thankfully) a ride back into Melbourne. Be quick and book this unforgettable romantic thing to do in Melbourne for the grape lover.
Fees: You can make a wine-tasting date for AUD $139 per person.
Around the Bay Food and Wine Taste Trail Tour
"A day in the bay" sounds like the title of a children's book, doesn't it? A day at Port Phillip Bay is not so much the content of a children's book but it certainly can be a fantasy day away. You can spend the day exploring Port Phillip Bay, eating and drinking, taking in the gorgeous seaside.
Starting from the Geelong Waterfront, take a stroll down the esplanade before heading to Scotchmans Hill Vineyard for your first wine tasting experience. It has to be five o'clock somewhere, right? Right after that, make your way to Jack Rabbit Vineyard for lunch and more. Follow that with a sail round the bay and a delectable afternoon tea.
Get ready for more drinking as you step foot into St Andrews Beach Brewery where they are the local's favourite beer. Move on to Murrays Lookout and enjoy the city view from the highest point of the Mornington Peninsula. Finally, walk off all the alcohol and food with a stroll along the Phillip Bay Coast, making memories with the colourful bathing boxes.
Have a memorable day with one of the more fantastical romantic things to do in Melbourne.
Fees: Eat, drink and explore Port Phillip Bay for AUD $199 per person.
Melbourne Tandem SkyDive Experience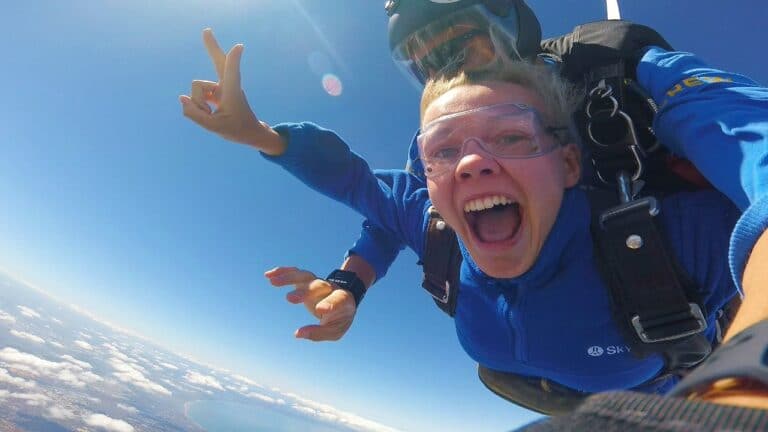 So, this is not your typical romantic date. Maybe lay off the flowers and chocolates, they won't make it back in one piece. If you or your partner is an adrenalin junkie, this should top the list for romantic things to do in Melbourne. They (still not sure who "they" are) always say, going through a frightening event together strengthens bonds. Well, be prepared for some mighty strong bonds after.
Imagine jumping from a plane 15,000 feet in the air and plummeting back to earth at a whopping 200km/h. Thank goodness you will be making that leap strapped on to an experienced skydiver and depending on premium industry-standard equipment. Ultimately, being as safe as you can be while immersing yourself in the thrill of the moment is what's the most important.
If you're ready to take your dates to the next level, try skydiving. Furthermore, if you want to take your relationship to the next level, Skydive Australia offers a "Will You Marry Me" package to aid you in your proposal.
Fees: Take the leap of a lifetime from AUD $389 (weekdays). If you like to propose while leaping, you can do so from AUD $1166.
Yarra Valley Hot Air Balloon Tour
Watching a sunrise with that special someone is never not romantic. Gazing at that rising orb from the confines of a flying hot air balloon over the picturesque Yarra Valley, however, pretty much tops the charts in romantic things to do in Melbourne.
Get picked up from your accommodation in Melbourne in the pre-dawn darkness and get whisked to the gloriously green Yarra Valley. Meet the crew and assist with the balloon inflation before setting off just before sunrise. Enjoy the magic moment of the sunrise as you soar over the valley. Take in the magnificent sights of vineyards and rolling hills. Once you land, you can choose to aid the crew in the balloon deflation before heading to the Balgownie Estate for a champagne breakfast.
If that does not sound like a fantastic morning date, how about a midweek private flight for you and your other half? It is the perfect opportunity to plan something special (hint hint).
Fees: Soar over the Yarra Valley in a balloon with a breakfast after for AUD $420. If you need a private flight, you can book one from AUD $2,195 for two people.
12 Apostles Helicopter Flight to Bay of Islands
Why tour the Great Ocean Road in a car when you can be flying around in a helicopter? Save hours on the road and check out the 12 Apostles, Loch And Gorge, the London Bridge and more. There is something special about going on a helicopter ride, never mind being able to view some of the best coastal scenery Australia has to offer.
Due to the size of each helicopter, you are almost guaranteed a private flight. As such, it is the best opportunity to plan something truly different and exceptional. If you'd like to do something amazing with your loved one, taking a scenic helicopter ride should be high on the list of romantic things to do in Melbourne.
Fees: Explore the Bay of Islands in a helicopter for AUD $245 per person.
No matter the kind of couple activity you are into, KKDay will most likely have something for you. So before you make any plans, see how much we can save you on a romantic trip to Melbourne.