Your family trip can be more than sightseeing and tours. It can be more than an eating trip. There are many things to do in Sydney for the family. Activities that will thrill all ages, and bond the tribe. So before the brooding and boredom begins, check out our list of things to do in Sydney.
Vivid Sydney
Vivid Sydney is a world-famous light, music and creativity festival held annually. There are light installations, projections, and performances in various locations over Sydney, running over three spectacular weeks. The event attracts millions of visitors and stays busy right through the three weeks, making it one of the most important things to do in Sydney. This year's festival beings 27 May and ends 18 June. We've found a few things you can do to maximise your enjoyment of Vivid Sydney 2022.
Journey Beyond River Cruise
Watch the Vivid Sydney light shows from the luxury of a three-hour dinner cruise. Talk about relaxing things to do in Sydney! Beat the crowds and enjoy the festival while sailing around the beautiful Sydney Harbour at sunset. After relishing the fresh sea air, sit down for an exquisite three-course dinner, focusing on premium NSW produce and wine. Of course, there are non-alcoholic beverages for the underaged. Take the stress out of the festival and join the Journey Beyond River Cruise to take in the lights.
Fees: Adults can enjoy the cruise for AUD $199 and AUD $75 for children.
Glow at Sydney Zoo
Head down to Sydney Zoo for Glow, an exciting light festival in western Sydney. Take the Light Walk through the zoo and check out the animal sculptures, angel wings, lighted ferris wheel and twinkling light tunnel. The kids will be on their own adventure as they use their free UV torch to explore the Secret UV Safari and uncover hidden animals and artwork.
After that, make your way to the glow zone and play glowing percussion with an octopus, go as high as you can on the kinetic swing, glide round the ice rink, or fly and spin on the Space Jam and many other activities! Once you're all played out, there are lounge tents where you can relax and grab a drink. So get on down to the Sydney Zoo now, before Glow gets switched off!
Fees: Glow runs from 13 May to 18 June 2022 and tickets are AUD $25 per person.
Wild Lights at Taronga Zoo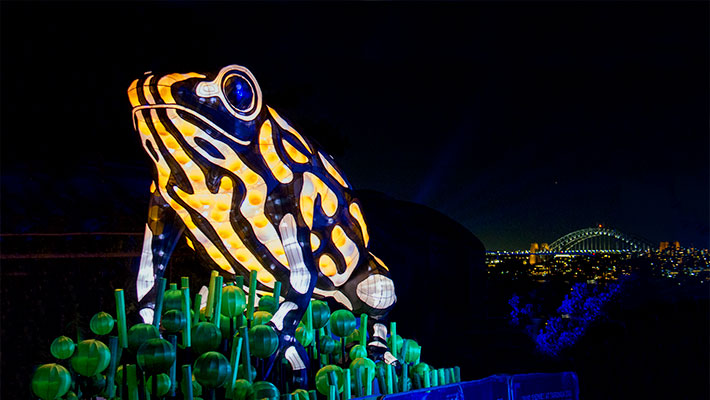 Enter an immersive lighted animal experience at the Taronga Zoo Wild Lights event. Filled with lighted animal sculptures and entertaining light show, Wild Lights will take you on an adventure where nature shines. Parents, if you're looking for educational things to do in Sydney, this takes the ticket. With over seventy lanterns from fourteen species, your brood will have a great time walking through the glowing animals of  Wild Lights.
Fees: Tickets for Wild Lights start at AUD $19.95 for children to AUD $26.95 for adults.
Fun on the Water
What do you do in the city by the coast? You do something on the water! Consequently, we have a number of water-based things to do in Sydney that many in your tribe will love!
Oz Jet 30 minute Shark Attack Thrill Ride
Let's face it, the sightseeing portion of this ride is just bonus. Who wouldn't want to hop into a speed boat for some spins, slides, power-break stops, and fish-tails? While being whipped around, keep your eyes peeled to catch the Sydney Opera House, Taronga Zoo, Harbour Bridge, and Clark and Shark Islands. Not only do you get to see the sights, the Captains double as tour guides, keeping you informed on those sights! This definitely ticks the box on exciting things to do in Sydney.
Fees: One catch, riders need to be at least 120cm tall. Adults can ride for AUD $79.20 and Kids for AUD $39.20.
Jervis Bay Whale Watching Cruise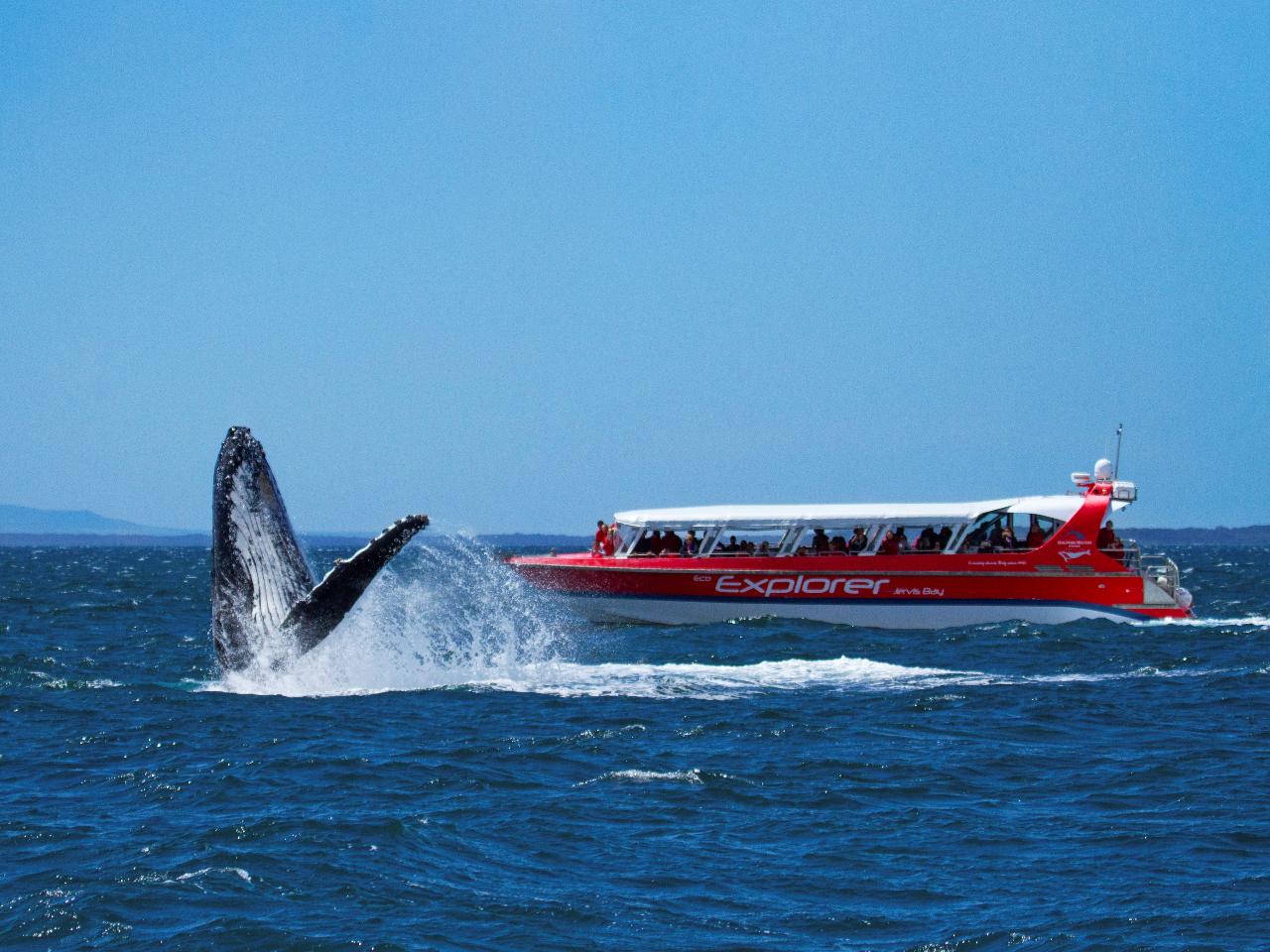 Are you thinking of awe-inspiring things to do in Sydney? How about taking a cruise by Jervis Bay to watch Whales breach the water? Whales migrate past Australia from May to November each year making this the best time to catch them in action.
The cruise leaves Husskinson, a little under three hours from Sydney, for a two hour boat sightseeing trip. While whales are wild animals and can be unpredictable, but Dolphin Watch Cruises have had a fantastic watch record for over thirty years, so remember to keep your camera handy!
Fees: Adults can watch the whales for AUD $65 and children fro AUD $35.
Maroubra Surf Lesson
You cannot say you've been to Australia if you did not stop by the beach at some time.  One of the most quintessential beach things to do in Sydney will be to learn surfing! While no-one expects you to be an expert anytime soon, create an unforgettable experience being immersed in the stereotypical Aussie activity, surfing.
Let's Go Surfing offers lessons to those aged 12 and over and are beginner-friendly! Just show up in your cossie and towel, and let their fully-qualified instructor get you on the waves. There is no better way to spend two hours at the beach. The younger tykes in the family will be happy for a stretch of sand play while the older ones surf. Maroubra Beach is a beautiful beach just South of Sydney CBD. Mostly frequented by locals, the beach is not as crowded as the more popular beaches in Sydney which makes for a relaxing time out for all.
Fees: Learn how to surf for $75 per person.
Fun on Land
Tree Tops Adventure Park
If you are looking for adventurous things to do in Sydney, look no further than Tree Tops Adventure Park. They have a number of locations in the Sydney region and each one will put your bravery to the test. Even the little nippers (three to seven years old) will be challenged by the Junior Course, taking them up to four meters off the ground! There are courses catered to every age range starting with our tykes, then to the tweens a finally teens and older.
Further more, the younger ones will especially love the Central Coast Tree Top Adventure Park with its additional NetWorld and Early Bouncers. Let your child explore a world consisting interconnecting nets, trampolines and ball pits, among the trees. On the other hand, older kids rule the roost, try heading to the Western Sydney location instead with its ZipCoaster. Make your brooding teen beam as they zip through the trees down a 330 meter biplane track. More importantly, mum and dad can get in on that action too!
Whichever location you choose, The Tree Top Adventure Park is sure to be one of the more exciting things you can do in Sydney.
Fees: General admission into The Hills, Western Sydney, and Central Coast Tree Top Adventure Park is AUD $43 for adult, AUD $35 for teen (8-16 years or 140cm and over), and AUD $26 for child (3-7 years).
Bonza Bike Tours
Feel you need to do some sightseeing while in Sydney? Why not kill two birds with one stone? Get moving with one of the more active things to do in Sydney, a Bonza bike tour. You can choose to explore Manly Beaches, the classic Sydney sights such as the Harbour Bridge, or a specialised Harbour Bridge tour. Each tour lasts about four to five hours and might include, a sunset cruise, a drink at the pub or even a picnic lunch.
Each person on the tour is allocated a bike, helmet, a small bike-mounted bag , and poncho if its raining! Moreover, there are children tandem tagalong and kiddicarriers available if your child is too little to fit on a kids twenty inch bike. Get led around the city by a knowledgable (and fit) guide who will entertain you with fun facts and quips. There are few better ways to spend a sunny afternoon in Sydney.
Fees: Choose to take a tour at the Manly Beaches or ride up the Harbour Bridge for AUD $149 for adult, AUD $129 for child (2 and up), and AUD $449 for family (2A + 2C) or ride around Sydney for AUD $129 and AUD $99 for child (2 and up) and AUD $369 for family (2A + 2C).
With so many things to do in Sydney, you will be spoilt for choice when planning the ultimate family holiday!