Melbourne has long been known to be the cultural hub of Australia. Most assume that Melbourne just is a grown up's paradise with galleries, theatre, sophisticated dining, and delectable wine. Well, they aren't wrong. But they are underestimating Melbourne's ability to entertain our young. Let us open your eyes to the attractions in Melbourne that a young family wouldn't want to miss.
Getting around Melbourne
Melbourne city as a far-reaching public transportation network which includes trams, trains, and buses. As a tourist, you should purchase a myki Explorer card to utilise this mode of transport. You can purchase and subsequently top up the cards at selected retailers around the city such as 7-Eleven, myki machines, and station offices. Top ups can also be done online.
The adult card is AUD $16 and comes with AUD $10 worth of travel fares. Additionally, the child card is AUD $8 and comes with $5 worth of travel fares. Moreover, the myki Explorer card entitles you to one day of unlimited travel around Melbourne city. More importantly, Public Transport Victoria offers commuters a Free Tram Zone within the CBD where travel is free.
Alternatively, you can choose to rent a car and travel around. Many of the attractions in Melbourne lie beyond the city borders and being able to drive there, makes it more convenient. Notwithstanding, a good time will be had by all no matter the mode of transportation chosen.
Attractions in Melbourne
Phillip Island Penguin Parade and Moonlit Sanctuary Wildlife Park
Phillip Island Penguin Parade
One of the most well-known attractions in Melbourne, Phillip Island is most commonly associated with the famous Penguin Parade. At twilight, thousands of penguins scamper up the beach at Phillip Island Nature Park. Watch them interact with their families and neighbours. You might even see some wallabies, bandicoots and geese!
You might be interested in visiting the Nobbies Centre which houses the immersive experience Antarctic Journey, before witnessing the walk of fame. Learn more about the conservation of the region and get frozen out of your socks and you enter the Antartic chill zone. Consequently compare your thermal image to that of an emperor penguin!
Remember to bring your binoculars just in case you're lucky enough to catch sight of breeching whales (May to October) or lazing seals along the Nobbies Walk. Keep your eyes open as you follow the boardwalk right to the very tip of the peninsula to enjoy breathtaking views of the Southern coastline. Perhaps, if the weather permits, a big blowhole in action! Sounds like a fantastic few hours at one of the best attractions in Melbourne.
Moonlit Sanctuary Wildlife Park
So you've taken your dog for a walk, but have you taken a dingo for a walk? Better yet, have you ever taken a wombat for a walk? Well, you can do that and more at the Moonlit Sanctuary Wildlife Park. Get behind the scenes and interact with Australia's endangered animals while learning about their conservation programs. Feed your mind then feed a wallaby, followed by a walk around the wetlands to observe over 70 Australian species living in this reservation.
Fee: Get picked up and take a day trip to Phillip Island, Moonlit Sanctuary and checkout the Brighton Beach boxes to boot! Join the tour from AUD $135 per person.
Twelve Apostles and the Great Ocean Road
From an erupting blowhole to the Twelve Apostles, Melbourne boasts some of the most magnificent scenery in Australia. The Twelve Apostles are stacks of limestone rocks which have been eroded from the Australian coastline over millions of years. Located in Port Campbell National Park, there were nine stacks to start with and the first fell in 2005, with the second following shortly in 2009. As we all know, nature never lets anything stand in its way, so head on down to catch a glimpse of this wonder before more stacks tumble.
Pop by Lord Ard Gorge, a five minute drive away, while you're there and immerse yourself in the tragedy of the Lord Ard shipwreck in 1878. Subsequently, take a stroll from the sunny beach enclosed by towering cliffs, down to the graveyard where those who succumbed to the shipwreck were buried.
The Apostles are about a four hour drive from Melbourne on the Great Ocean Road, a road well-known as much for its majestic views as its winding turns. Enjoy the beachside towns such as Torquay and Apollo Bay where you can dig into the quintessential Aussie fish and chips while taking in the surf. Keep your eyes peeled for wild kangaroos, wallabies, echidnas, koalas and even a migrating whale if you're lucky!
There are not many experiences more relaxing than cruising along the Great Ocean Road, hearing the ocean roar, and anticipating the spectacular view at the end.
Fee: Save yourself the drive and take a bus tour from Melbourne along the Great Ocean Road to the Twelve Apostles, breaking at coastal towns for tea and lunch, and a stop at Lord Ard Gorge. Spoil yourself at AUD $133 per adult and AUD $94 per child.
Puffing Billy Railway
Get ready for the ultimate steam train experience when you climb aboard the Puffing Billy. The railway was built in the 1900s to serve the towns in the hills but now is an iconic attraction in Melbourne. Lose yourself in the past, with the sounds, smells and authentic 1900s steam train.
There are a number of journeys to choose from: a return from Belgrave to Menzies Creek, a return from Belgrave to Lakeside, and lastly, a return from Belgrave to Gembrook. All three train rides passes through the lush and vibrant Sherbrooke Forest where you can witness the magnificence of giant Mountain Ash trees, the tallest flowering plants in the world. You then arrive at the landmarked Trestle Bridge where photos are definitely encouraged!
This is also the one and only time you will not be reprimanded for sticking your hands and feet outside of the ride! The Puffing Billy Railway encourages its of-age passengers to sit on its carriage open window sills to enjoy a truly unique train experience.
Menzies Creek
Stop at Menzies Creek, twenty-five minutes away, to visit the Menzies Creek Museum, full of locomotives and train parts, and even an operational boiler house! After which, you can take a break at the Little Toot cafe while the little ones play at the themed play area.
Lakeside
You can also choose to journey to Lakeside in Emerald Lake Park, an hour away. Rent a paddleboat at Lake Treganowan or rent a bike and hit the nature trails in the Eastern Dandenong Ranges. Alternatively, explore the Lakeside Visitor Center for a relaxing afternoon. Take a peek inside Lakeside Hall with its Puffing Billy artifacts then browse the Animal Tales art exhibition within the centre. Follow this with a leisurely lunch at the Railway Cafe while watching the world go by.
Gembrook
Alternatively, Gembrook, an hour and fifty minutes away, can be your destination. Take an hour to explore Grembrook and visit the J.A.C Russell Park playground.
Fee: Tickets start at AUD $36 for adults and AUD $19.50 for children for a return trip from Belgrave to Menzies Creek.
Ballarat Wildlife Park
and Sovereign Hill
Take a day trip to Ballarat, a short hour and fifteen minutes drive from Melbourne city. There are a number of attractions in the region, making a trip there more than justified. Here are two of them you might enjoy.
Ballarat Wildlife Park
Take a step into a nature wonderland with 100 roaming kangaroos. These animals are friendly and wouldn't mind you hand-feeding them a little snack. Then spend some time hanging out with the meerkats at their new enclosure, followed by the little penguins at their very own pool. The koalas, wombats, Tasmanian devils, tortoises, crocodiles, snakes and even a tiger would love to meet you at the Ballarat Wildlife Park.
Sovereign Hill
Ever wondered what a town was like during the Goldfish? Gold was discovered in Ballarat in 1851 which prompted the world's greatest alluvial gold rush. Sovereign Hill is a recreation of the boomtown days with activities to immerse you in the experience. Would you like to try your hand at panning for gold? Perhaps, you'd prefer to head into the mine where the first gold nugget was found. You can witness an alcohol smuggling operation, followed by a blacksmith shaping hot metal, then test your skills by assembling a wheel. Finish the day by going nine-pin bowling. With more than thirty activities lined up to fill the day, your tribe will create memories worth their weight in gold.
Fees: Step into Ballarat Wildlife Park for AUD $28.50 for adult and AUD $15.90 for child. Pan for gold at Sovereign Hill for AUD $39 for adult and AUD $20 for child.
Legoland Discovery Centre
Are your kids bonkers over Lego®? Do they love the wonder and unpredictability those blocks bring to their play? If so, you definitely need to head over to the LEGOLAND® Discovery Centre. You can explore the interactive Miniland Melbourne, watch a 4D Lego® movie, and hop on to a Kingdom Quest ride to rescue a captured princess! The little ones would love the farmyard play area with giant Duplo® blocks and life-sized Duplo® animals.
Meet the Lego Friends, then build a Lego tower to withstand earthquakes, afterward hop on to the Merlin Apprentice's Ride and fly as high as you can peddle! Most importantly, get a bonus minifigure with every visit to Legoland®! Did you know that the team at Legoland® will gladly swap a minifigure with you so bring your least favourite one from home and swap. The whole brood will have a blast at the LEGOLAND® Discovery Centre so make your booking quick!
Fee: General admission is AUD $27.60 per person. Free minifigure only applies to children aged 3-12.
EnterMission Melbourne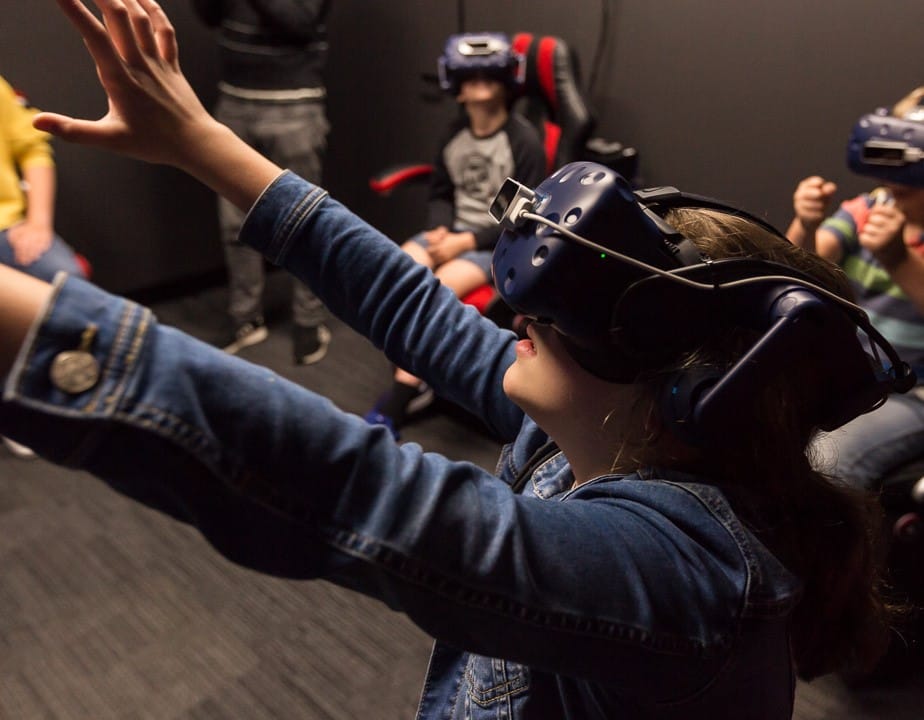 Entermission is an attraction with a difference. Using the latest technology in VR, Intermission takes you to various unbelievable realities to solve puzzles and battle enemies. Additionally, the use of effects such as wind and smells fully immerses you into the experience. Each group will participate in the adventure together in the real world and in VR with your avatars. Stop a terrorist attack, help Alice out of Wonderland, or find your way home from a jungle planet. There are many quests to choose from. So if your young ones are eight and above, check out his high-tech attraction in Melbourne today.
Fee: Missions start from AUD $49 per person.
Website: https://enterthemission.com/melbourne/
Werribee Open Range Zoo
Werribee Open Range Zoo is an African safari rolled into a zoo. Hop onto the free safari bus which will take you through the savannah, Asian grasslands and North America. The Safari tour introduces you to giraffes, bison, antelope, rhinos, ostriches and many more. Furthermore, attend keeper talks about hippos, meerkats, lions and gorillas. Additionally, you can choose to feed a giraffe or prepare hippos for bedtime! For a truly unique zoological experience, head down to the Werribee Open Range Zoo today.
Fee: General admission for adult is AUD $40 and child is $20. Go on a weekend or during Victorian school holidays and children under 16 years old enter free!
Melbourne is full of wonderful and exciting attractions you wouldn't want to miss. While we have the most awesome ten listed here, there are many more experiences you can book on KKDay today!