The capital city of Thailand, Bangkok, sees the influx of thousands of tourists year-in-year-out owing to its bustling shopping scene, exhilarating nightlife, and floating markets that can be explored on longtail boats.
It is not surprising that Bangkok invites travelers who wish to immerse themselves in Thai culture, and at the same time find time to appreciate the old-world charm the city exudes.
Besides the old, there is also the new so while you have a joyride on a tuk-tuk­, don't forget that Bangkok has fast been cultivated into a metropolis with mushrooming skyscrapers, shopping malls, and business hubs.
However, right now we are more concerned with Bangkok's well-known, not to be missed nightlife scene that involves not just your usual bars and clubs, but an array of luxury rooftop bars, old-school speakeasies, and of course unique concept bars!
From our friends over at KAYAK Singapore, here's a list of the best speakeasies you must visit on a night crawl if you truly want to experience Bangkok!
Find cheap flights to Bangkok* Book cheap hotels in Bangkok from S$ 8*
Our list of the best speakeasy bars in Bangkok
The Speakeasy, Hotel Muse
Speakeasies are a-plenty in Bangkok, ranging from those hidden behind unassuming restaurants or the more conspicuous ones hovering on a hotel's rooftop! The Speakeasy at Hotel Muse in Langsuan falls under the latter category, as it is not so hidden due to frequent visits and word-of-mouth.
Featuring a Fitzgerald, Gatsby vibe with a tub packed with ice cooling off champagne bottles, muted warm lighting from floor lamps, 1920's inspired décor, and old-timer cocktails like the original Sazerac 1838, the bar is nothing short of breathtaking!
As you breathe in the mesmerising view of Langsuan Road, enjoy a mix of jazz and contemporary tunes amidst the warm tropical weather. Spread across three floors, there is a terrace bar, a glass-dome Long Bar, and the main bar on the 25th floor providing an excellent vantage point!
Address: 24/F-25/F, Hotel Muse, 55/555 Langsuan Road, Lumpini, Pathumwan, Bangkok
Visit the website
Stay at Hotel Muse, from S$157
TEP Bar
Expertly hidden amidst the alleyways of old town streets close to Hua Lamphong, TEP Bar is a quintessentially Thai speakeasy, which makes its location in an unsuspecting shop-house part of its charm.
With cosy interiors that pack tables and people close to each other, Tep Bar has quickly become a hit amongst locals who love bringing their international friends here for a spin!
From the interiors, music, food, and vibe, the bar oozes with what is now termed as Thainess –authentic Thai culture that will lure you in and captivate you.
Musical notes from Thai xylophones and Thai cymbals, wooden benches graced with flower garlands, banana leaves as reservation cards, and chalkboard menus transform into an impressive and creative outlet for promoting Thai heritage.
Address: 69-71 Soi Rammaitri, Maitrijit Road, Bangkok
Visit the website
Find cheap flights from Singapore to Bangkok*
Maggie Choo's
Word has it that this underground Bangkok bar used to be a Thai shophouse restaurant with a side door that led to a bank vault, which used to hold the porcelain and spices (and who knows what else) of the British East India company, to be brought back to the Queen.
Well, the queen of speakeasies now hosts a swanky lounge that you enter through literal vault doors from the spiffed-up shophouse – serving Cantonese tapas-like dishes in dim sum baskets, where you can enjoy fun cocktails, premium wines and spirits, and good beer.
It features live entertainment almost every night, ranging from DJ sets, to soulful singer-songwriter nights and jazz gigs, to cabaret nights – just like they used to do in the pre-war era.
Address: Basement, Novotel Bangkok Fenix Silom, 320 Silom Road, Bangrak, Bangkok
Visit the website
Book cheap hotels in Bangrak, Bangkok from S$  8*
Sing Sing Theatre
Designed by the same industrial interior designer as Maggie Choo's, Sing Sing is definitely a speakeasy bar and not a theatre, serving cocktails, premium drinks and a good time. Its interiors hark back to the golden days of old Shanghai – wooden elements played up with wrought iron trimmings, heavy Asian influences and a movie set feel making you feel more like an extra in 'Shanghai Express' than 'The Hangover 2'.
Let's not dismiss the theatre reference in the bar's name, though, as fantastical shows do run high here, where you might be able to catch sexy acrobatic performers or sultry burlesque dancers accompanying the hip DJs playing music on the decks. This place is so hip, though, that you should make sure to reserve your table in advance – either via phone, email or their Facebook page – to ensure you get the best service from the staff.
Address: Soi Sukhumvit 45, Bangkok
Visit the website
Book cheap hotels in Watthana, Bangkok from S$ 57*
Havana Social

You've seen one Cuban bar, you've seen them all…. but you've probably never had to give a password in a telephone booth to gain entry into one of the more 'secret' bars in Bangkok. And once inside, you might have to admit that you've never seen a Cuban bar quite like this before.
Rather than dress it up in drug-lord fineries, what you get here is a dreary and dilapidated version of Cuba before the revolution, with decor including a washing line complete with hanging laundry. Surprisingly, it's rather chill and laid-back – the perfect spot to just relax with friends.
What to look out for when venturing here are their mojitos and daiquiris, as well as the password for the night, which you can get by calling the number listed on their Facebook page.
Address: 28 Soi Sukhumvit 13, Bangkok
Visit the website
Book hostels in Bangkok, from S$ 8*
Post Bar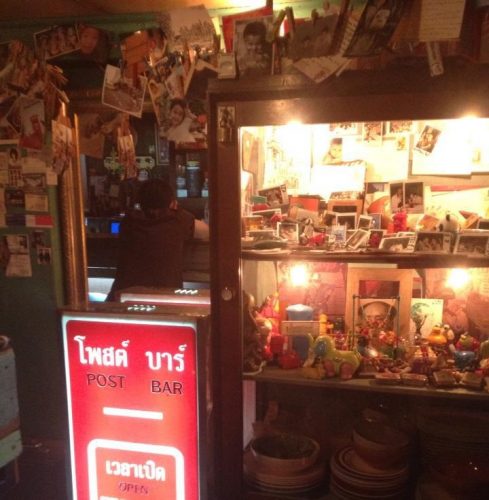 This Bangkok bar is like the junk graveyard where your grandparents' rattan furniture goes to die, but arranged so eclectically and eccentrically that as soon as stepping in here, most everyone just coos 'Ahh nostalgia…'.
With dark wooden walls and low lighting, old-school wooden furniture and framed paintings and newspaper cuttings, this joint isn't exactly the most sophisticated but perhaps it's the unpretentious vibe that makes patrons keep coming back – along with the great food and drinks, of course. Most-often described as 'like having drinks with friends at home'.
Address: 161 Soi Samsen 3-5, Samsen Road, Phra Nakhon, Bangkok
Visit the website
Book cheap hotels in Phra Nakhon from S$ 20*
Iron Fairies
Just want to kick back and let loose in a joint where you can have a good time with your friends without having to worry about stepping on the toes of genteel clientele? Then Iron Fairies is for you.
Looking like a ship turned into a watering hole during the height of the Viking era, this place ain't no bar for dainty fairies, evoking Tolkien-esque dark magic vibes more than Cinderella bibbity-boppity-boo. Customer reviews recommend the absinthe cocktails here as well as the salads (they have huge burgers, too).
Nonetheless, you'll feel like medieval royalty having a rowdy good time with your mates while the bards perform down below the dining balconies.
Address: 394 Sukhumvit Soi 55, Thonglor, Bangkok
Visit the website
Book design hotels in Bangkok, from S$ 76*
Smalls
Spread on three storeys in a shop lot, Smalls doesn't exactly live up to its name in the literal sense, but it's a big name on the Bangkok bar scene due to its cosy feel, great staff, friendly owner, perfect cocktails, and great music.
They also hang legit art on the walls that you can gaze upon while listening to the live funky jazz band or their regular DJ, the acclaimed Scott Hess, who loves experimenting on his decks, so it's a real culture vulture trip at Smalls.
Address: 186/3, Suan Phlu Soi 1, Thung Maha Mek, Sathon, Bangkok
Visit the website
Book cheap hotels in Sathon from S$ 30*
A.R. Sutton & Co Engineers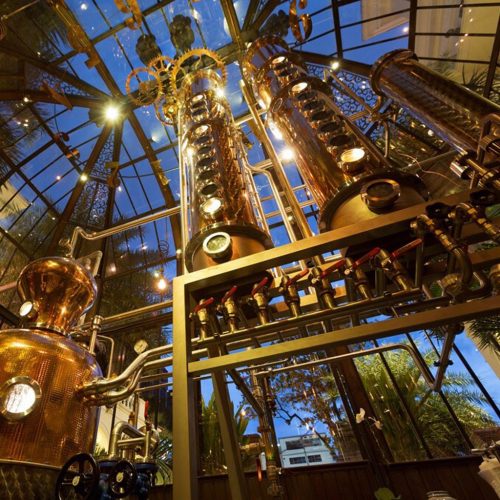 The main man in the bar's name is actually the designer behind the interiors of Maggie Choo's and Sing Sing Theatre so you can bet the interior here is anything but the usual! This time, Mr Ashley Sutton opts for a steam-punk vibe to showcase the fine art of whiskey-making in a setup that resembles a whiskey distillery.
Retro-futuristic copper vessels with complex doodads and thingamajigs are aplenty here, all under an iron-framed dome with skylights, so you feel like you're in a post-apocalyptic birdcage, sipping on gin & tonic featuring the house-distilled Iron Balls Gin made of coconut and pineapple juice infused with juniper, ginger and lemongrass.
This is definitely a favourite for one of the best speakeasy bars in Bangkok!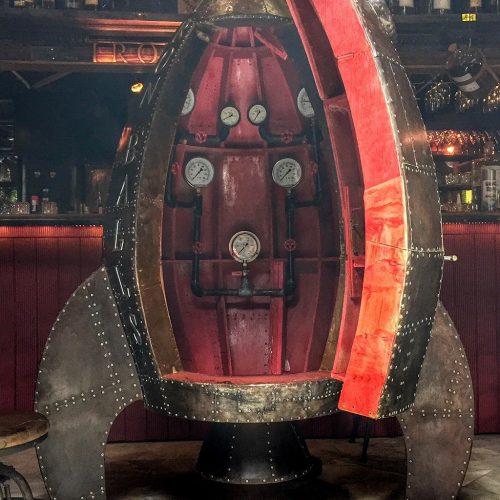 Address: 18 Soi Sukhumvit 61, Klongton-Nua, Wattana, Bangkok
Visit the website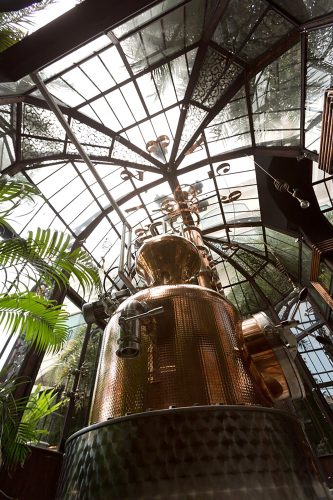 Book boutique hotels in Bangkok, from S$ 60*
Rabbit Hole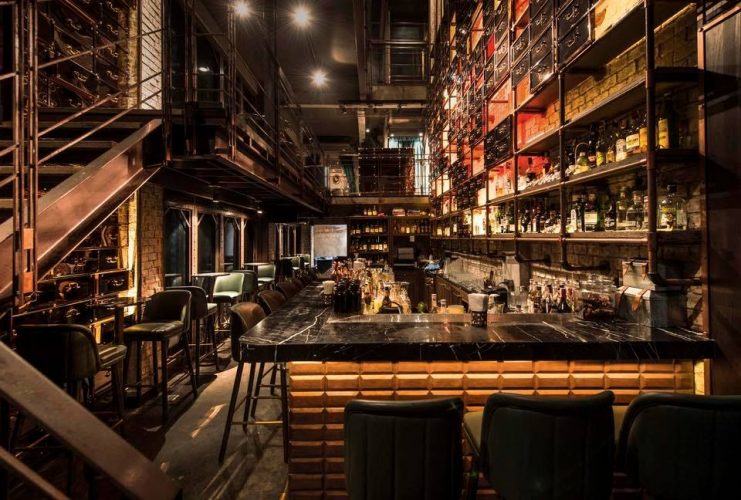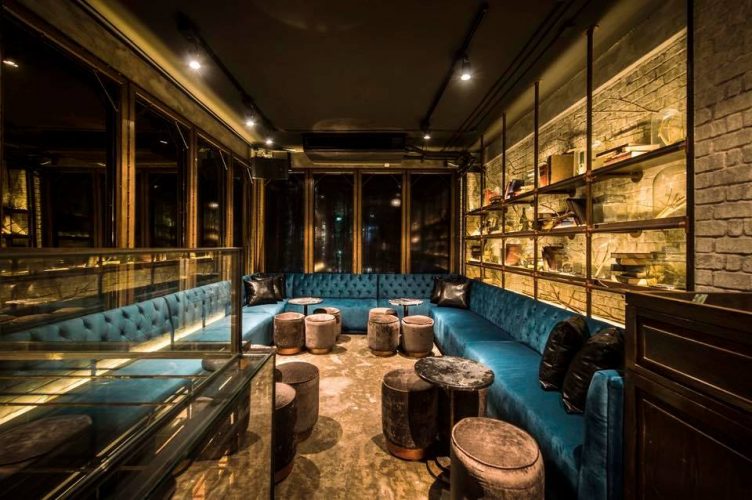 Fancy costumes are not required here but you might want to dress up like the Great Gatsby and company when you go down the Rabbit Hole for their delicious drinks – how most patrons describe the cocktails – and flavourful dishes, as the interior is top class brass.
Reminiscent of a refined gentlemen's den, with an industrial yet elegant feel, the ambience is cosy and relaxed, and very welcoming with ample seating for all. The bar recently won two awards at the 2018 Bar Awards Bangkok, Bangkok Bar of the Year as well as the Rising Star award for young bartender Noppasate 'Depp' Hirunwathit, so you know you just can't go wrong by adding this to your list of must-visit bars.
Address: 125, Thonglor Sukhumvit 55, Bangkok
Visit the website
Find cheap flights to Bangkok* Book cheap hotels in Bangkok*
*Note: These rates are based on search queries made on kayak.sg on 28 March 2018. The prices are quoted in SGD. Flight prices are based on results for a return economy flight search. Hotel prices are for double occupancy and include taxes and fees. Prices are subject to change, may vary, or no longer be available.
'This article is brought to you by KAYAK Singapore.'